Avoiding the Pitfalls of Publishing With Amazon Kindle Self-Publishing Platform
The thriving market for ebooks has prompted many authors to turn to Amazon Kindle Digital Publishing (KDP) for book distribution. But with great sales opportunities come great pitfalls.
First, let's examine just how lucrative the ebook publishing market may be today.
An early 2017 five-country, 15-retailer report from Author Earnings shows that Amazon.com owned a startling 65% of all ebook unit sales in those English-speaking countries including the USA. What's more 64% of all ebook consumer dollars flowed through Amazon sales channels. These sales included titles sourced from the Big Five publishers, small presses, and indie authors. More than half of the indie authors in the study were enrolled in the Kindle Unlimited Full-Read Equivalent program (Kindle Select), which pays authors from a royalty pool based on how much of a book is read. Opting into the Select program automatically gives Amazon exclusive distribution rights.
Read the rest of this story HERE.
---
Writing a few thoughts on local books
Local authors have brought books for review to The Valdosta Daily Times for years.
When I started taking local books for review, I'd get about 12 a year. Then, I'd promise the author to give me about two weeks, then we'll do an interview, then the story on the book will run in the paper.
As time passed, more local books arrived. At its height, we'd get about two to three dozen books by local authors per year. I'd make the same promise then but it was a promise impossible to keep, especially since there were plenty of other books on my personal reading list.
Now, the annual number of local books arriving at the office is somewhere between the early years and the busiest years. I no longer make any promises about reading local books, but at some point, I will more than likely get to them.
I don't recall ever asking local authors to send books to the newspaper but I've never discouraged local authors from sending them either. And reading about a local book in the newspaper and online inspires others to send their books.
Read the rest of this story HERE.
---
Books written by female authors priced 45% lower than men's books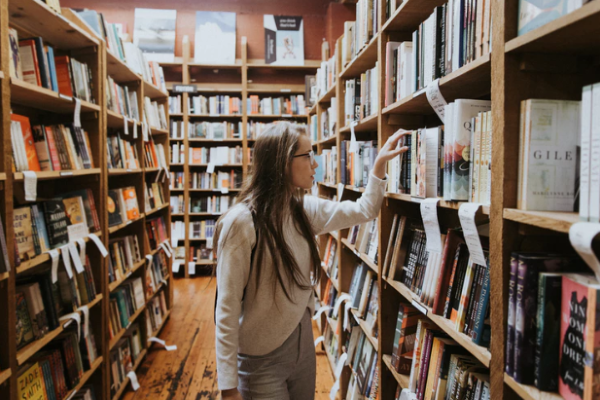 In news that's disappointing but unfortunately not all that surprising, a study has found that in mainstream publishing, books by female authors are, on average, priced 45 percent lower than those by men.
The PLOS-published paper analysed over two million book titles published in North America from 2002 to 2012, and looked gender discrimination within both indie and traditional publishing.
Read the rest of this story HERE.
---
The surprising way millionaire author Mary Higgins Clark spent her first big paycheck
Mary Higgins Clark is known as the "queen of suspense."
At 90, she's written 37 best-selling suspense novels and sold over 100 million copies of her books in the U.S. alone. Her latest work, "I've Got My Eyes on You," was released at the end of April and is already on The New York Times Bestsellers list.
In her more than 40 years of publishing books, Clark has earned paychecks that most writers can only dream of. After releasing her first suspense novel, "Where are the Children?" in 1975, she was granted a $3,000 advance by her publishing company Simon and Schuster. As she continued to release two new books each year, her advances grew significantly.
Read the rest of this story HERE.
---
The Top 25 Hottest Books of Summer 2018 
Summer vacation is right around the corner, and what's better than spending a hot day off with a hot new book? These are the top 25 must-reads every book lover needs to get his or her hands on this summer.
The Subway Girls by Susie Orman Schnall
This upcoming summer release takes readers back to the Miss Subways beauty contest and the way it changes the lives of two women, almost a century apart, forever. Both facing hardships, Charlotte and Olivia will find their true purpose in life through the famous 1949 campaign.
Read the rest of this story HERE.