Check out this review of the book, Amber Smoke, by Kristin Cast, as featured on the Books and Readers Site blog
Books and Readers
We all know Greek mythologies work damn good at making books great for some mysterious reason . Look at Percy Jackson , for example ! But does it always work ? Not so much , I guess ..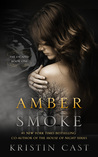 Amber Smoke by Kristin Cast
Rating: ★★★
Genre : Fantasy-Paranormal
Summary : 
There is a world that runs parallel to our own, a world in which the souls of the damned are caged, where they are looked over by the Furies, and where they spend eternity in torment, mirroring the devastation and mayhem they created when alive.
Someone has opened the cage.
The worst of terrors has crossed the barrier that separates our world from theirs, and the Furies send a great, albeit untested warrior—their only son, Alek—to try to bring those souls back. He is young and handsome, headstrong and impulsive, and he won't be able to do it alone. 
View original post 487 more words