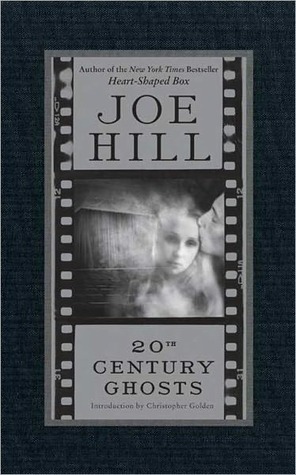 Goodreads Synopsis:
Imogene is young, beautiful. . . and dead, waiting in the Rosebud Theater one afternoon in 1945. . .
Francis was human once, but now he's an eight-foot-tall locust, and everyone in Calliphora will tremble when they hear him sing. . .
John is locked in a basement stained with the blood of half a dozen murdered children, and an antique telephone, long since disconnected, rings at night with calls from the dead. . .
Nolan knows but can never tell what really happened in the summer of '77, when his idiot savant younger brother built a vast cardboard fort with secret doors leading into other worlds. . .
The past isn't dead. It isn't even past. . .
My Review:
I've been wanting to read Joe Hill's work for a while. This desire was for one simple reason, he is Stephen King's son. This fact, however, was not revealed until 2007, nearly two years after he had received multiple awards for his writing. He had a desire to succeed on his own and would have remained anonymous if Variety hadn't broken a story revealing is parentage.
I have to be honest, though. I'm a huge Stephen King fan and I sought out his son's work solely to see if some of the King writing DNA had been passed on. The complex answer is, yes and no.
In the short story collection, 20th Century Ghosts, Hill shows some of his fathers prowess in the areas of character development and dialog. He also has the talent for weaving some bizarre stories. Some of his stories, however, don't quite have the polish that his father brings to the genre. They end abruptly, which I believe is intended, but as a reader, it can leave you flat and unfulfilled.
There are some flashes of brilliance, however. His story about Nolan and his autistic younger brother who builds sophisticated forts in the basement is a masterful character study and a great concept for a short story. The reversal of perception of who is the smartest and what the consequences of that genius might be is very well thought out.
In his first collection of stories, Joe Hill shows great maturity as a writer. This book was published in 2005 and I am looking forward to reading his later works. It's interesting that King has a book coming out in September, Sleeping Beauties, that he co-wrote with his son Owen King. Owen also released his first book in 2005 and has received positive reviews and awards. He may be worth checking out as well.
The bottom line is, if you're a fan of short stories, as I am, this book is worth reading. The blurb in Goodreads does not do it justice. It appears to be spinning the book as pure horror fiction, which it is not. Of course, Stephen King is also referred to as the 'Master of Horror', but his books offer so much more.